Magazine
Astrup Fearnley Collection: New Acquisitions 2022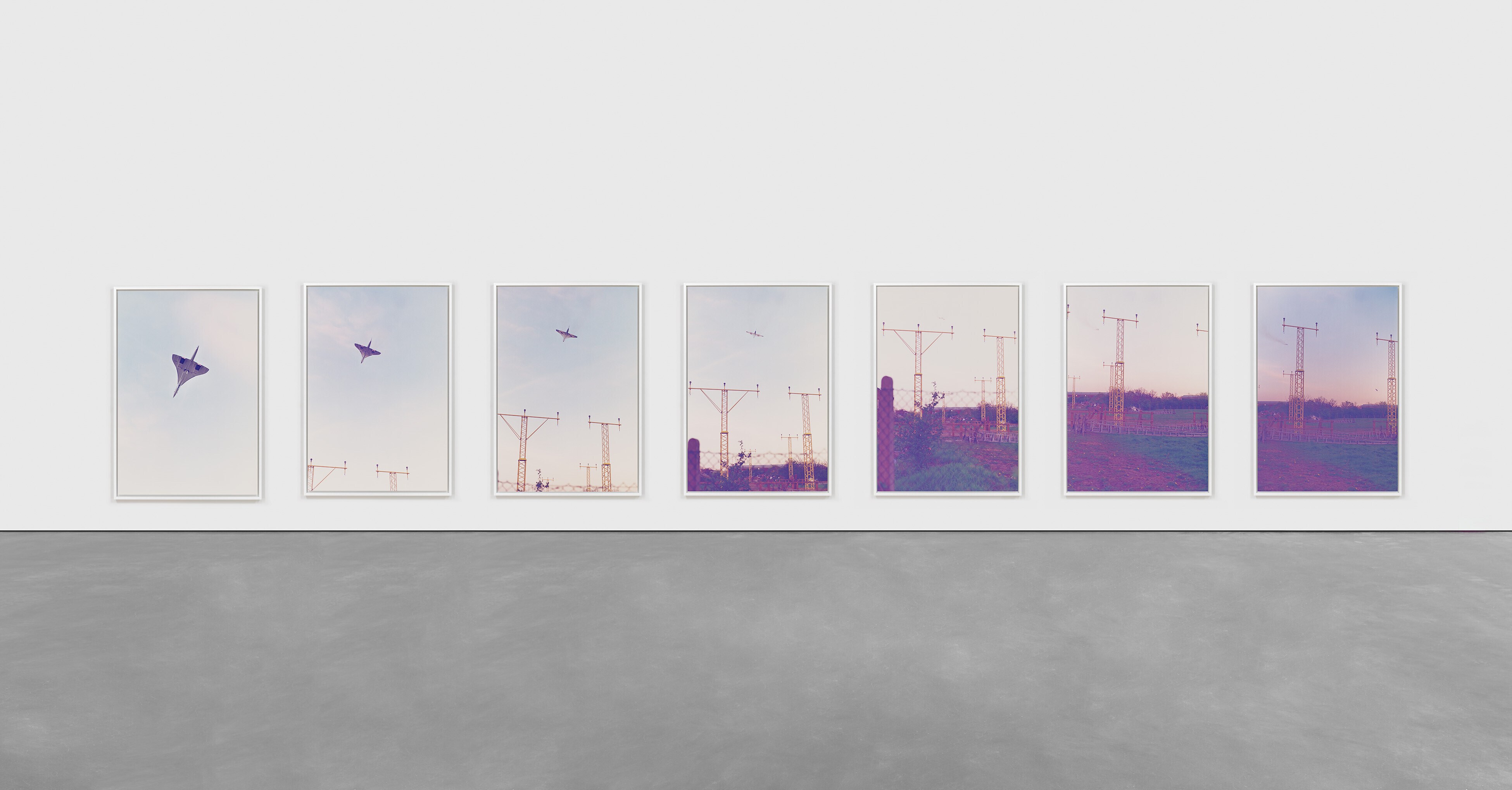 Every year, new works are purchased for the Astrup Fearnley Collection. In 2022, the museum acquired works by fifteen artists, some of whom are already represented in the collection, while others are newcomers. Several of the new works will feature in Before Tomorrow, an exhibition that marks the museum's thirtieth anniversary opening on 22 June 2023.
Below, you can read more about the fifteen artists and works.
---
Tauba Auerbach,
Extended Object, 2021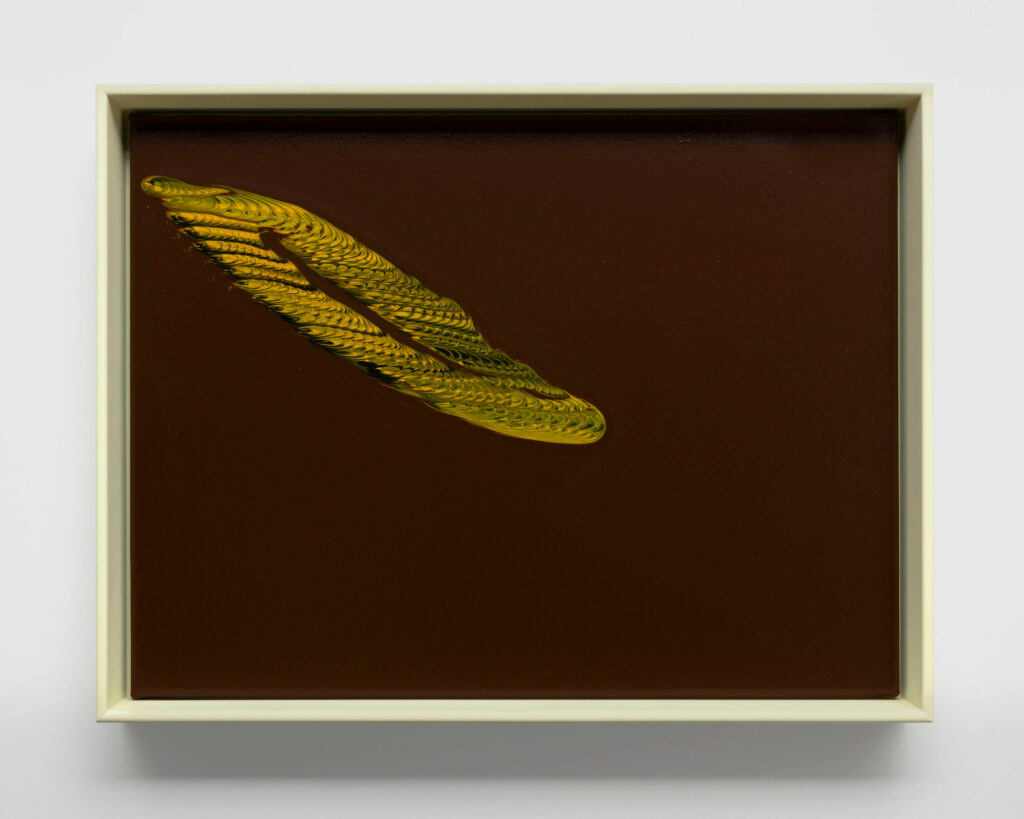 Working at the intersections of craft, aesthetics, science and mathematics, Tauba Auerbach (born 1981 in San Francisco, USA; works in New York) explores the poetic possibilities of structures and systems. Interactions between color, light, form, and negative space form a thread running through her work, which encompasses painting, weaving, glass sculpture, photography, three-dimensional printing and artist books.
---
Yto Barrada,
Mnemonic Phrases, 2019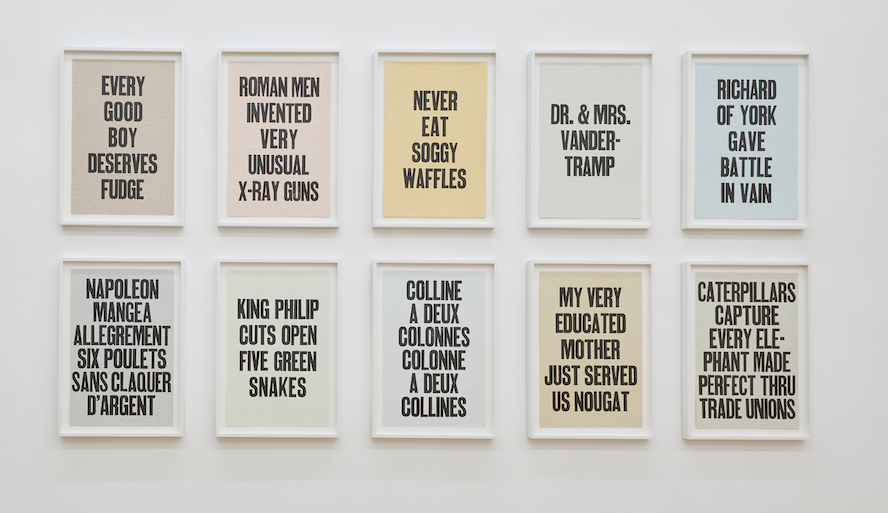 Yto Barrada (born 1971 in Paris, France; works in Tangier, Morocco) combines strategies from documentary filmmaking with a metaphorical approach to the creation of images and has become known for a language that is rich in symbolism. Her art explores themes such as the passing of time or its perceived cessation, motherhood, the history of pedagogy, play, botany, traditions of modernism, and our futile attempts to control nature. Barrada works in a range of media from photography and film to sculpture, painting, graphics and artist books.
---
Trisha Donnelly,
Untitled*, 2002
In her installations, videos, audio works, photographs, performances and drawings, Trisha Donnelly (born 1974 in San Francisco, USA; works in New York) creates moments of absolute concentration and focus. Evoking a mix of fascination and confusion, she plays with and complicates our conventional ways of perceiving and classifying artworks. Consistently challenging us with the interaction between physical and imagined spaces where fiction and reality merge, her art revolves around eternal questions related to perception and what we know with certainty.
---
Gardar Eide Einarsson,
Untitled (FT), 2017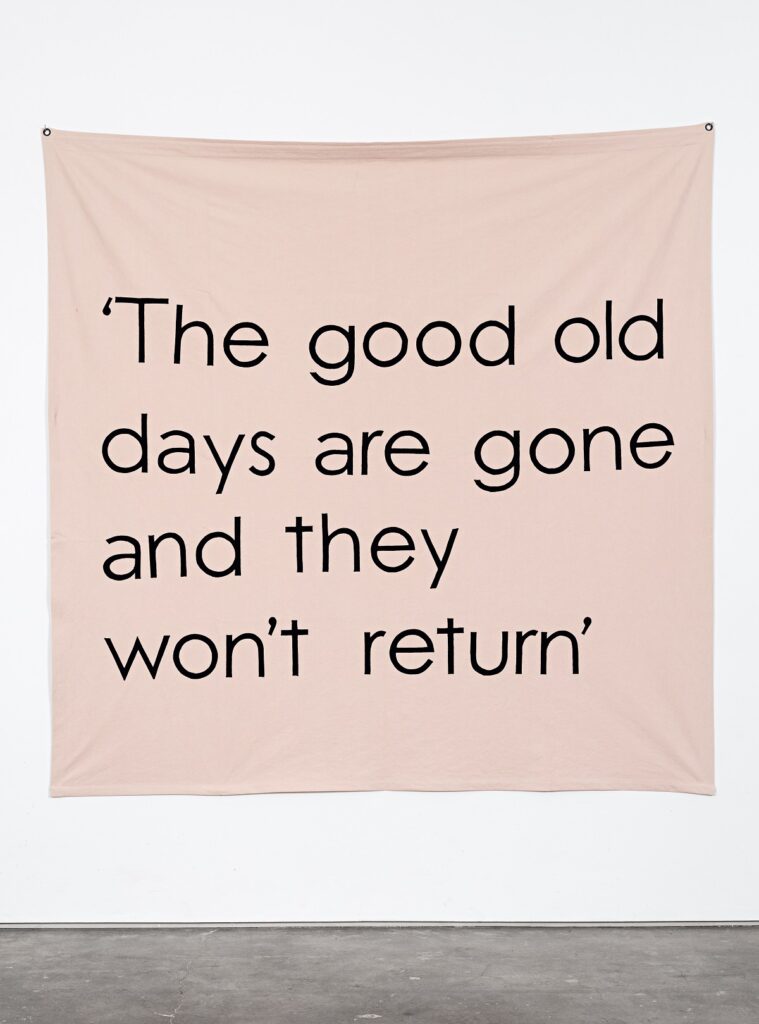 In his paintings, sculptures, and installations, Gardar Eide Einarsson (born 1976 in Oslo, Norway; works in Tokyo, Japan) uses a formal language to confront the viewer with complex questions regarding perception and individual agency. What does one really see? What impact can one make in the world? The ciphers and symbols that figure in his work often refer to fundamental conflicts and the moment when individuals are forced to engage with societal or state power structures. At the same time, Einarsson references historical examples of violent yet unsuccessful attempts to achieve individual freedom. Many of his works examine the figure of the outsider in popular culture, with its various myths, symbols, and forms of representation derived from historical examples of extreme individualism.
---
Kim Hankyul,
AV Buddha, 2022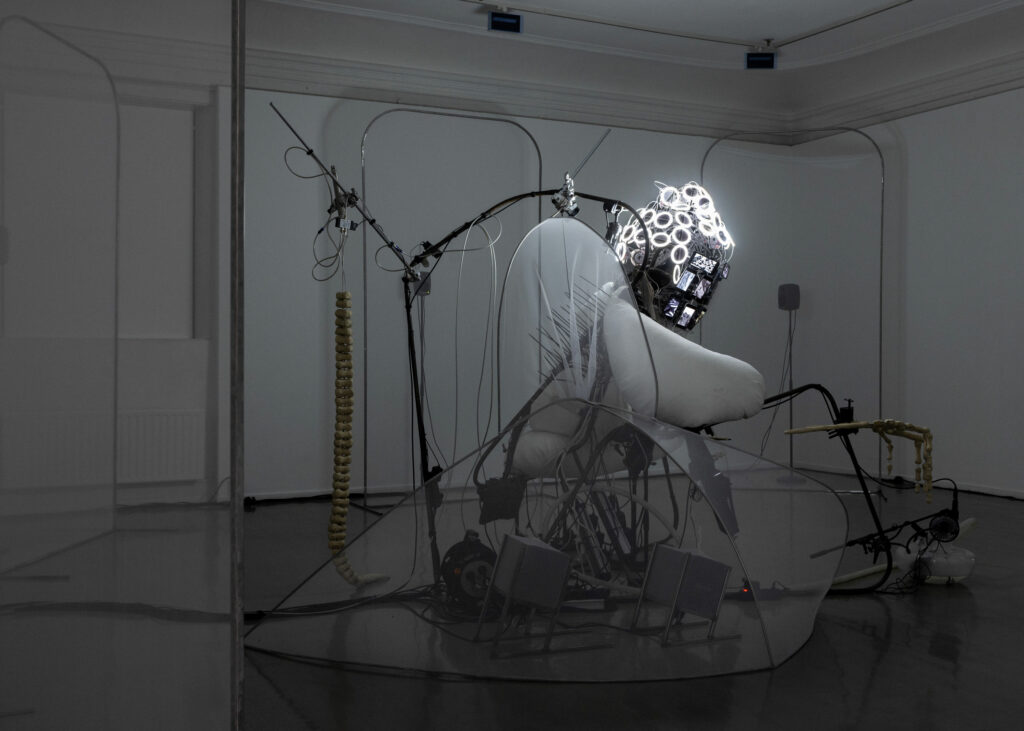 Working primarily with installation and sculpture, Kim Hankyul's (born 1990 in South Korea; works in Oslo, Norway) practice often features evocative soundscapes and kinetic objects that address issues such as violence and alienation. Hankyul was one of three artists represented in The Savings Bank Foundation DNB's Stipendutstilling 2022 at Oslo Kunstforening, where AV Buddha was shown for the first time. A kinetic sculpture and sound installation in the form of a Buddha, the work is an amalgamation of elements that contrast the spiritual and the mechanical. The title is an allusion to TV Buddha (1974), an iconic work by the South Korean artist Nam June Paik that addresses, among other things, the relationship between East and West, religion and mass media, as well as surveillance and control.
---
Ann Cathrin November Høibo,
Untitled (36), 2016 | Løpere, 2019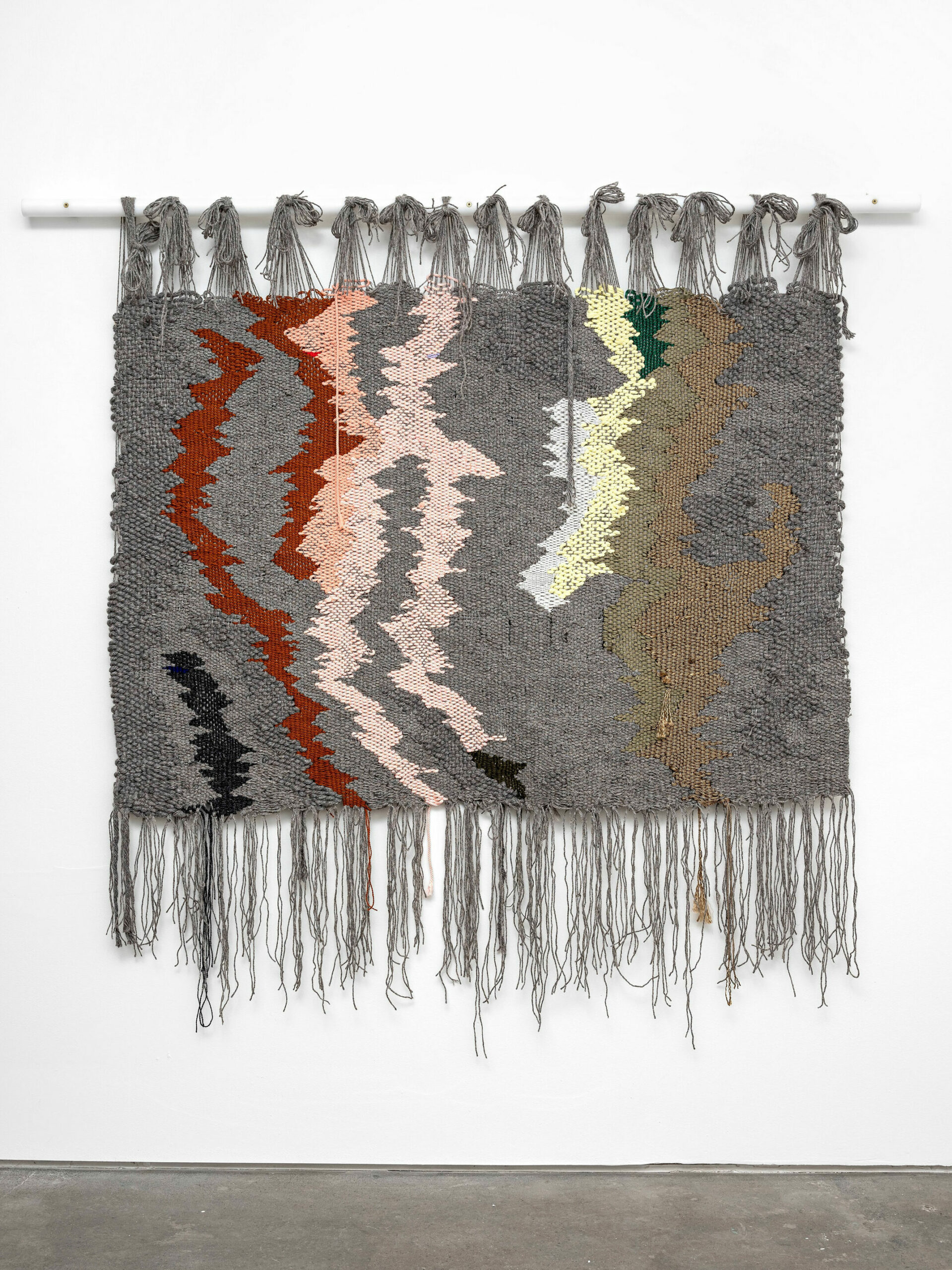 With a background working with textiles, Ann Cathrin November Høibo (born 1979 in Kristiansand, Norway; works in Oslo and New York, USA) is part of a lineage of prominent Norwegian textile artists that includes Frida Hansen, Hannah Ryggen, Synnøve Anker Aurdal, and Else Marie Jakobsen. Reflecting an underlying reverence for craftsmanship and weaving traditions, her works are characterized by an artistic language that shows a profound awareness of composition and materials, but also a unique ability to challenge tradition in the pursuit of new possibilities for the medium.
---
Eline Mugaas,
Red bathroom, 2022 | Full Moon on the Screen, 2022 | Purple room, 2022 | Black Outline, 2017 | Trapezoid, 2016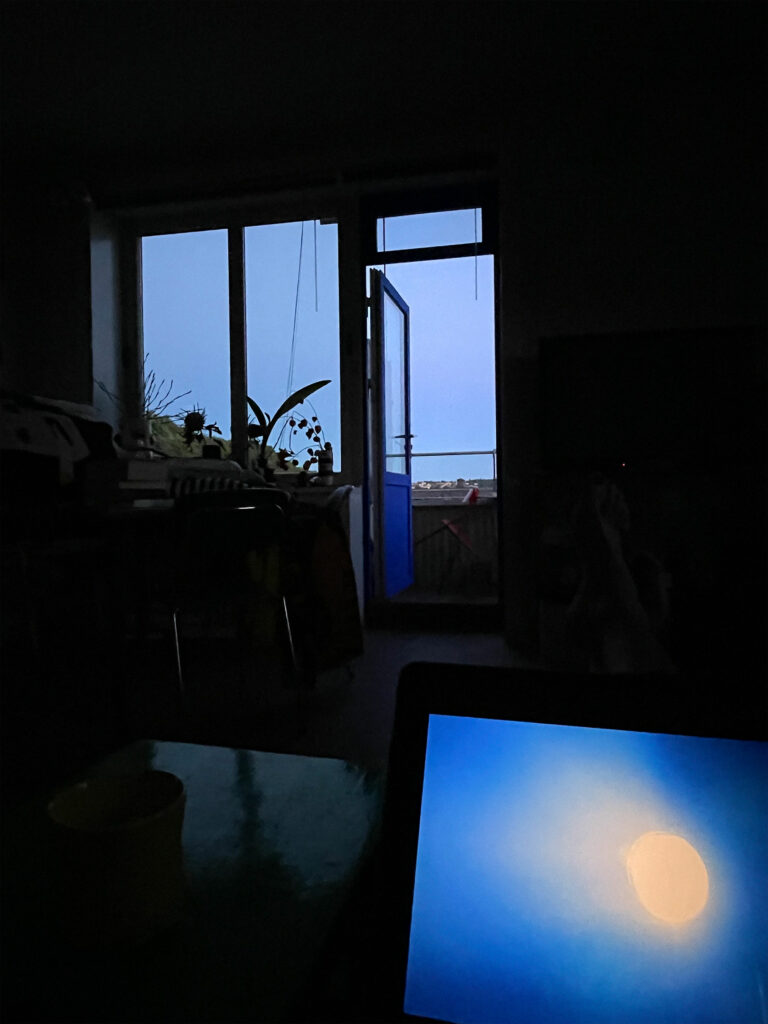 Eline Mugaas (born 1969 in Oslo, Norway) works with photography, video, collage and, more recently, sculpture. Atmospheric views of urban spaces, landscapes and interiors are typical of her practice. Many of her works have a meditative quality that is reminiscent of historical still-life painting. Portraying quotidian moments, such as the changing light and colors of a winter landscape viewed from an apartment block, she imbues these scenes with significant meaning and poetry. Everyday sights and objects may also become abstracted, thanks to the artist's distinctive approach to perspective and spatial construction.
---
Mikael Lo Presti,
City Scene, 2022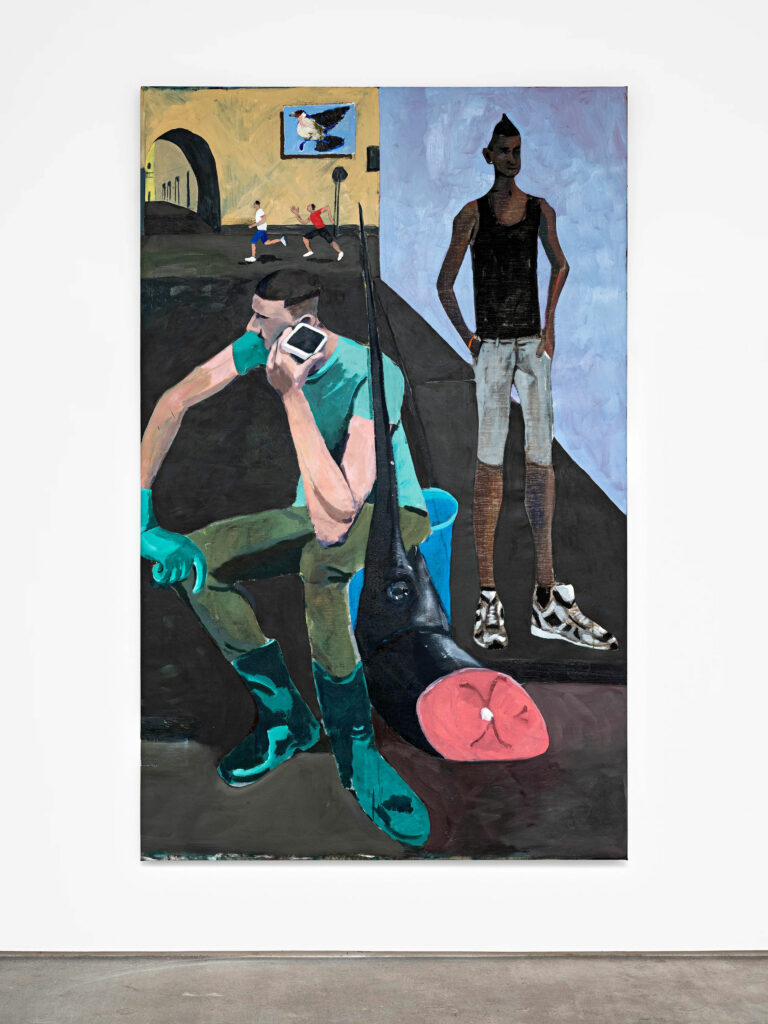 Mikael Lo Presti (born 1989 in Södra Sandby, Sweden, works in Malmö and Stockholm), who is both Swedish and Italian, reflects on the particularity of identifying with two cultures in his practice. Many of the artist's paintings depict fleeting moments, street scenes, or objects arranged as in a still life. Images that at first glance portray mundane situations, upon closer inspection, are often embellished with unexpected and even surreal details. These details can be both comedic as well as possess a sense of potential violence.
---
Cinga Samson,
Onjalo Umhlola, Onjani Umhlola, 2022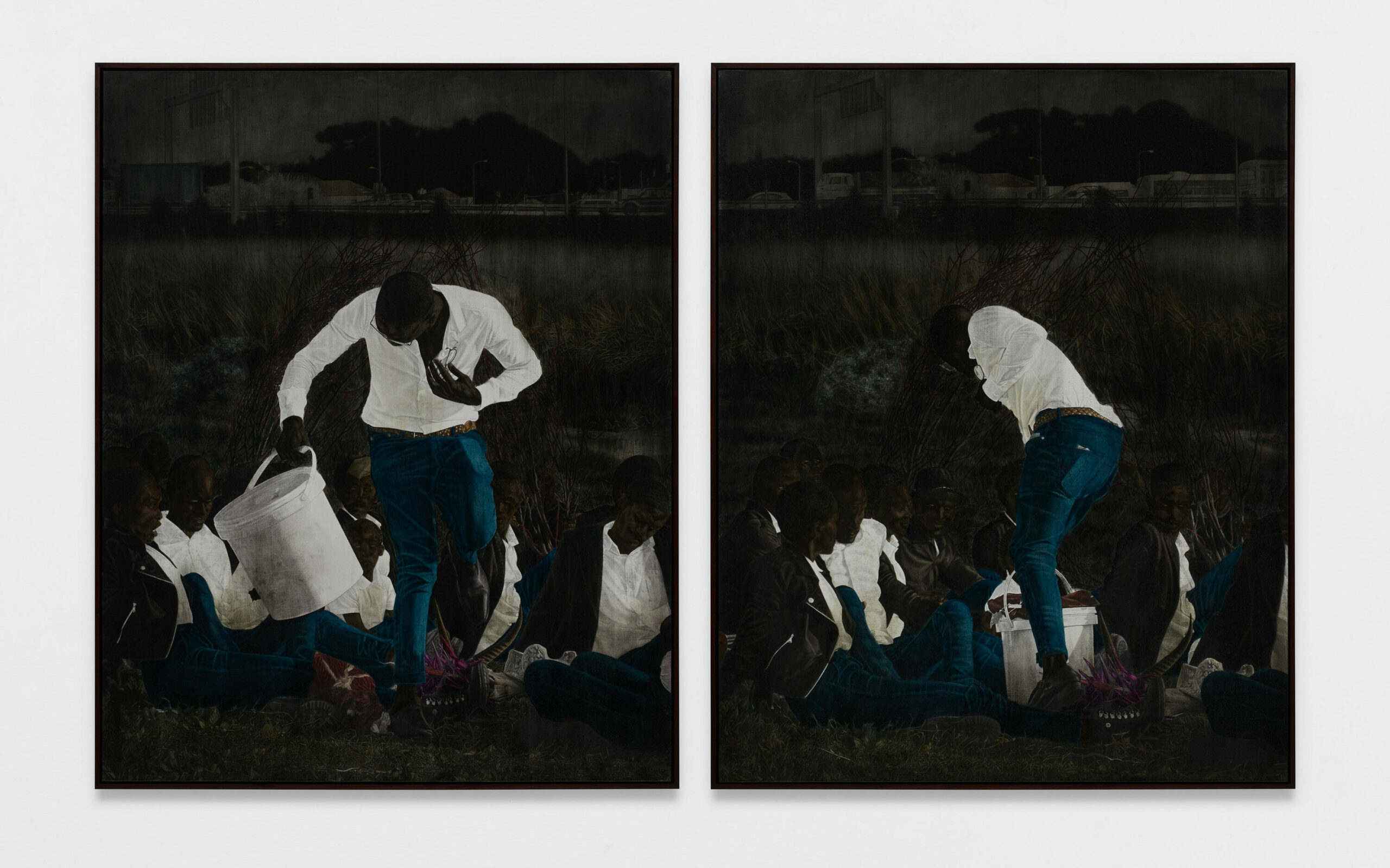 Cinga Samson (born 1986 in Cape Town, South Africa), is known for his large-scale figurative paintings. In a palette of muted, dark tones, he paints group scenes and self-portraits. Addressing symbolic, spiritual, and social practices, his paintings explore themes such as desire, power, mortality, and transience. Combining techniques from classical, Western painting with references to contemporary, local and global culture, Samson brings together several distinct traditions together. Onjalo Umhlola, Onjani Umhlola is a diptych that is meant to be read from right to left. Titled in isiXhosa, Samson's first language, it can be understood as a form of call and response. Within Xhosa culture, young people may be called upon by a community to serve. In Samson's painting, the summoned person becomes the main protagonist in a scene that appears fraught with anxiety.
---
Josh Smith,
Untitled, 2020-2022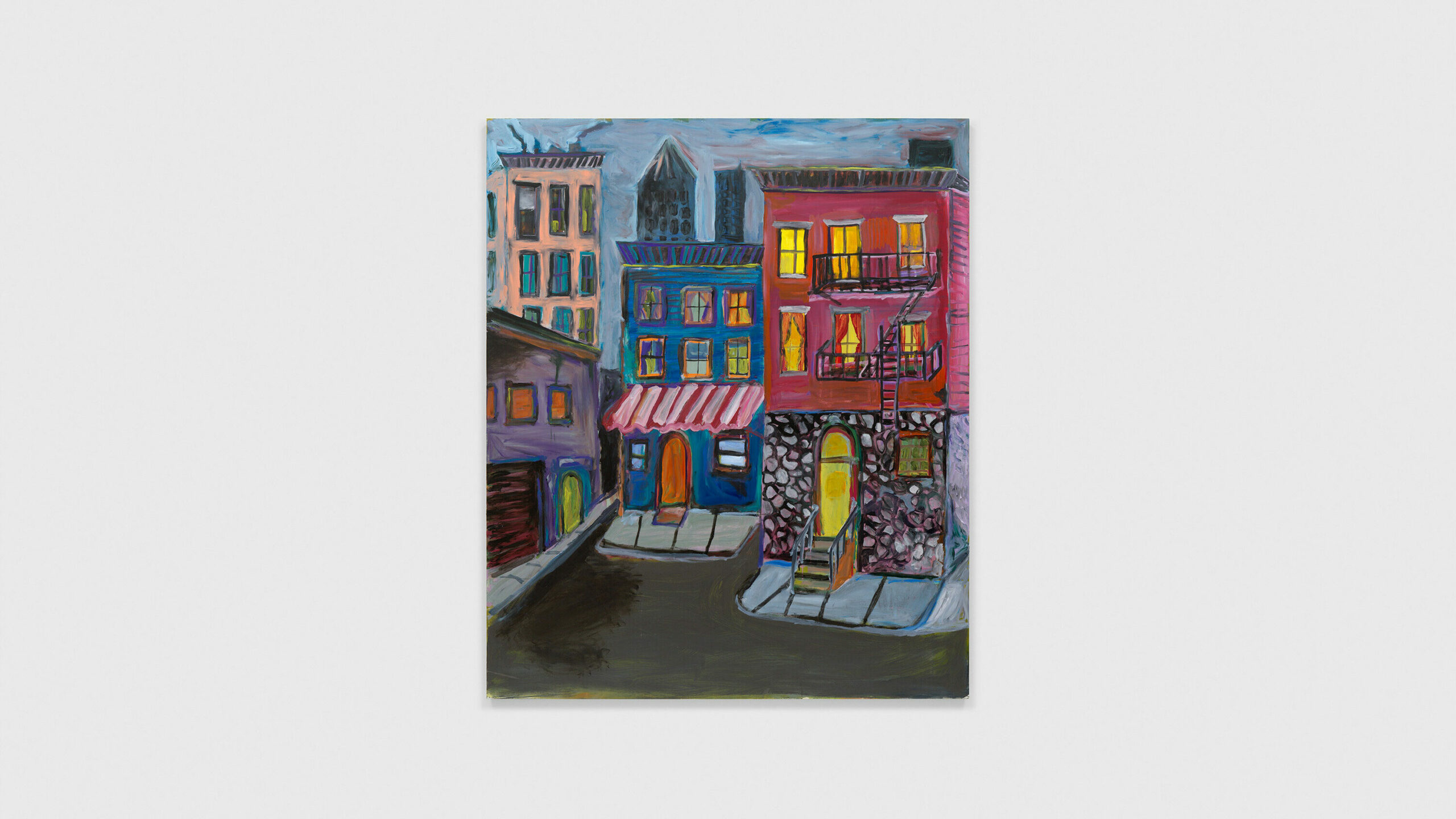 Primarily known as a painter, Josh Smith (born 1976 in New York, USA) also works with collage, printmaking, sculpture, and bookmaking. Early in his career, Smith experimented with both abstraction and figuration, and has consistently been interested in the expressive possibilities of painting. More recently, he has created monochromatic compositions, abstracted the movement of figures and objects, and has explored a variety of techniques used to depict figures and landscapes. Untitled (2020–22) belongs to a series of paintings of New York street scenes devoid of people. These were inspired by the artist's experience of walking through the neighborhood where he lives during the lockdowns associated with the coronavirus pandemic. The empty streets, in what is usually a vibrant, cosmopolitan city, imbues his painting with an eerie stillness.
---
Børre Sæthre,
Unicorn/My Private Sky, 2001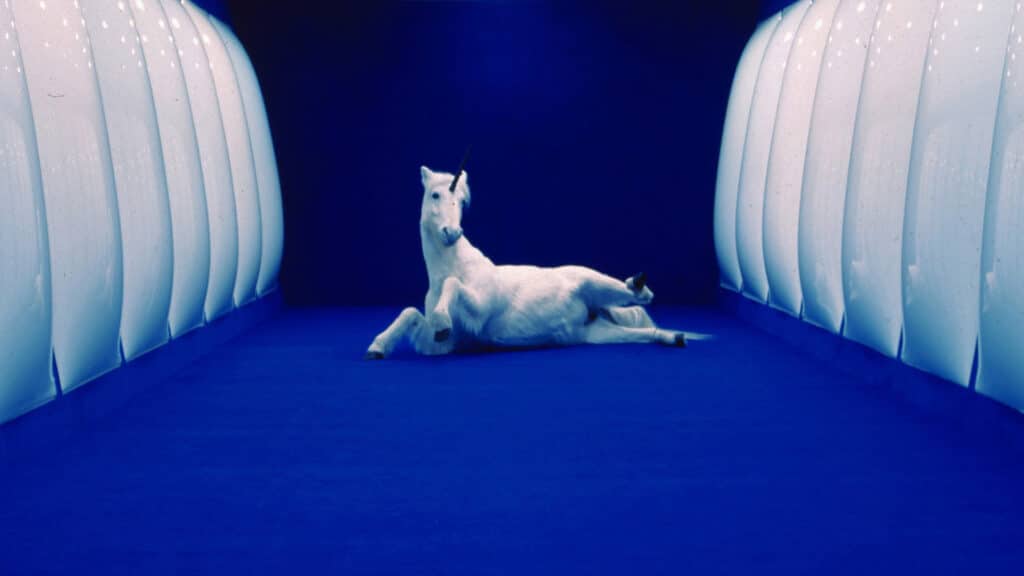 Børre Sæthre (born 1967 in Oslo, Norway) is known for his large scale, highly theatrical installations. Incorporating elements such as stuffed animals, furniture, stage lighting, sound and video, he creates surreal environments that are once seductive and disturbing. With their precision and meticulous attention to detail, these environments are conceived as immersive spaces into which the visitor becomes a participant. Sæthre often draws inspiration from film, especially from the filmmakers David Lynch, Andrei Tarkovsky and Alfred Hitchcock. Many of the stories that unfold in his work have a concrete starting point, but rather than present solutions, they tend to confront the viewer with questions. A work that attracted considerable attention when shown at Astrup Fearnley Museet in 2001, Unicorn/My Private Sky is now part of the museum's collection.
---
Thorbjørn Sørensen,
Untitled (Tjuvholmen VI), 2022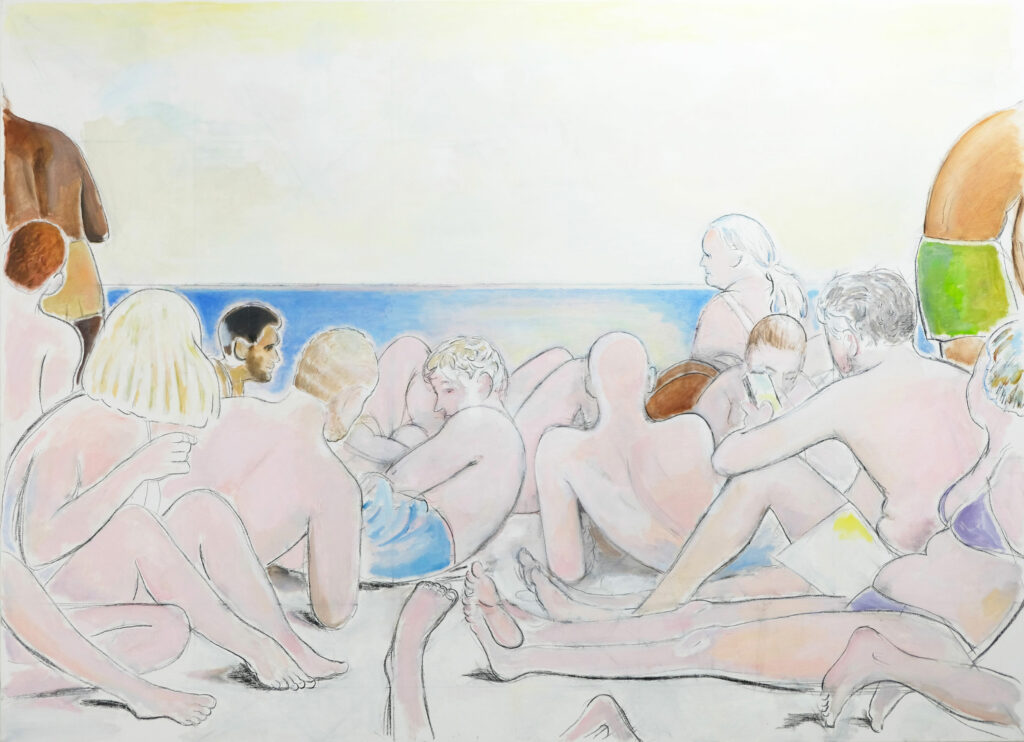 Thorbjørn Sørensen (born 1961 in Oslo, Norway) is known for exploring several distinct approaches to painting simultaneously, including meticulously observed images of flora and fauna rendered with watercolor, lyrical oil paintings of groups of figures and geometric, non-objective paintings completed in acrylic. Untitled (Tjuvholmen VI) is from the series A Warm Afternoon, which consists of large oil paintings of life on the beach. In particular, Sørensen depicts the fjord-side beach at Tjuvholmen right outside the Astrup Fearnley Museet. Painted over an extended period, these images are like bright memories that capture the atmosphere of the place rather than focusing on the identity of the figures.
---
Wolfgang Tillmans,
Concorde L449-19, 21, 22, 23, 25, 27, 28, part of the Concorde Project, started in 1997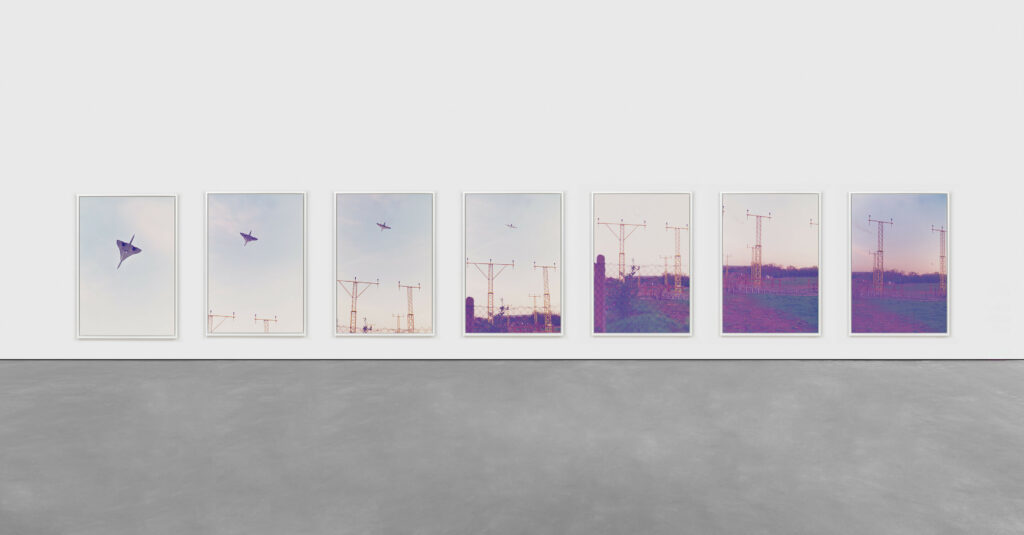 Wolfgang Tillmans (born 1968 in Remscheid, Germany; works in Berlin and London) is considered among the most influential photographers currently working. In 2000, he won the Turner Prize, the first photographer to receive the award, and his experiments across a wide array of genres, subjects, techniques, and display strategies have expanded the traditional boundaries of the medium. This seven-part work is from his Concorde Project, which includes a grid of 56 photographs and an associated publication. The sequence acquired by Astrup Fearnley Museet stands out from the other images in the series due to its purple hues. During the printing process when the artist was developing the photographs, Tillmans' solution grew weak and instead of changing the chemicals he continued printing, allowing the final images to acquire a ghostly tint.
---
Sissel Tolaas,
StillALife, 2021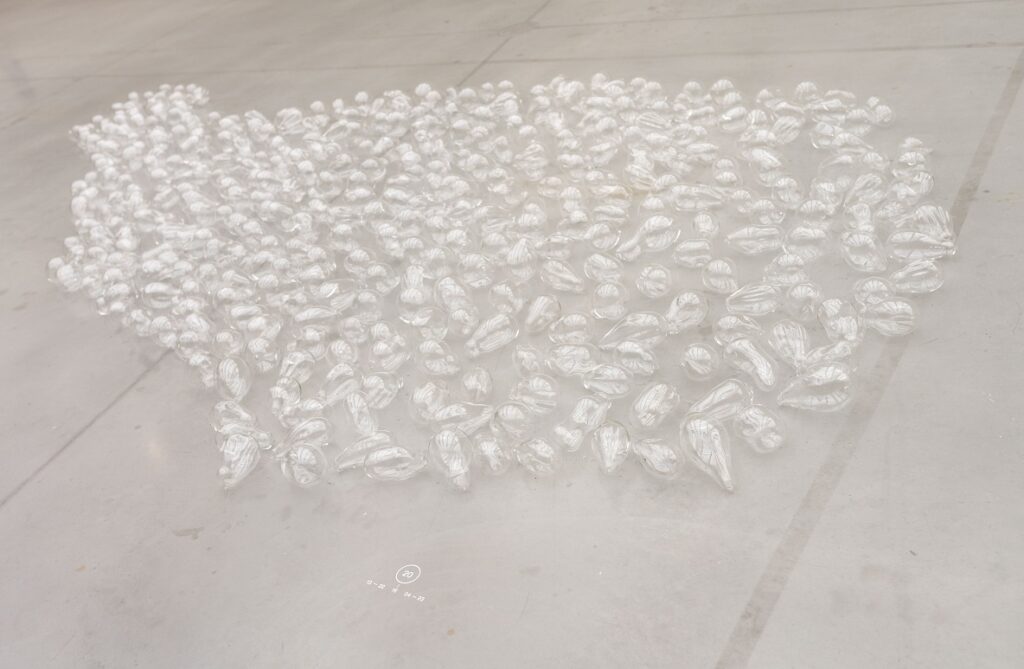 Sissel Tolaas (born in Norway; works in Berlin, Germany) has developed a distinctive practice that challenges the notion of the artwork as a physical object. Observing and documenting chemical processes throughout her career, Tolaas' research-based practice has focused on the sense of smell rather than sight or hearing, highlighting its importance in how we perceive the world and its role in communication. The work StillALife was presented at the Astrup Fearnley Museet as part of the exhibition RE________. Created in 2020-21, it consists of 365 hand-blown glass vessels. Tolaas has used her own breath to infuse each vessel with life, one breath for each day, during a period when the world was reeling from the impact of the coronavirus pandemic and our breath, and that of others, carried the threat of contagion. Placing the work on the floor, which is the artist's preference for display, emphasizes both the fragility of the material as well as our own mortality when our breathe is constrained.
---
Kara Walker,
THE SOVEREIGN CITIZENS SESQUICENTENNIAL CIVIL WAR CELEBRATION, 2013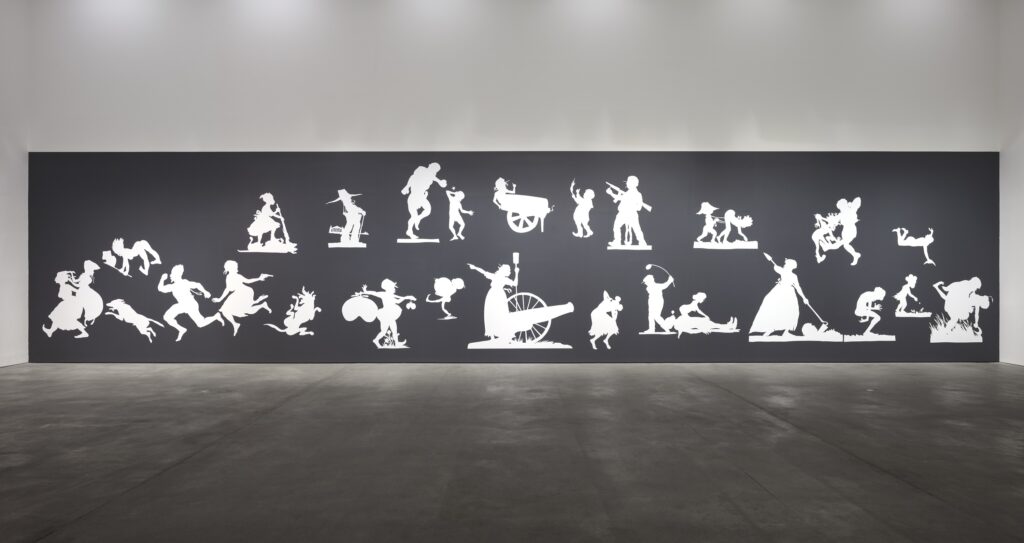 Known for her large-scale, monochromatic murals formed of cut paper silhouettes, Kara Walker (born 1969 in Stockton, USA; works in New York) also works with drawing, painting, text, shadow puppetry, animation and sculpture. Using a pictorial language developed since the 1990s and combining the poetic with the cruel, she addresses contemporary and historical issues of race, gender, sexuality, slavery and violence. A monumental mural, THE SOVEREIGN CITIZENS SESQUICENTENNIAL CIVIL WAR CELEBRATION (2013) differs from many of her other works in that the silhouetted figures are white and displayed against a black background instead of the inverse, which is more common for Walker's practice. The mural depicts an imagined re-enactment of an American civil war battle during the 2011 commemorations in the United States.
---